I've been a remote worker for the better part of the last year (like a lot of people) and I took some time to intentionally set up a home office workspace that has everything I need but is also conducive to getting work done. Here's what my home office setup looks like…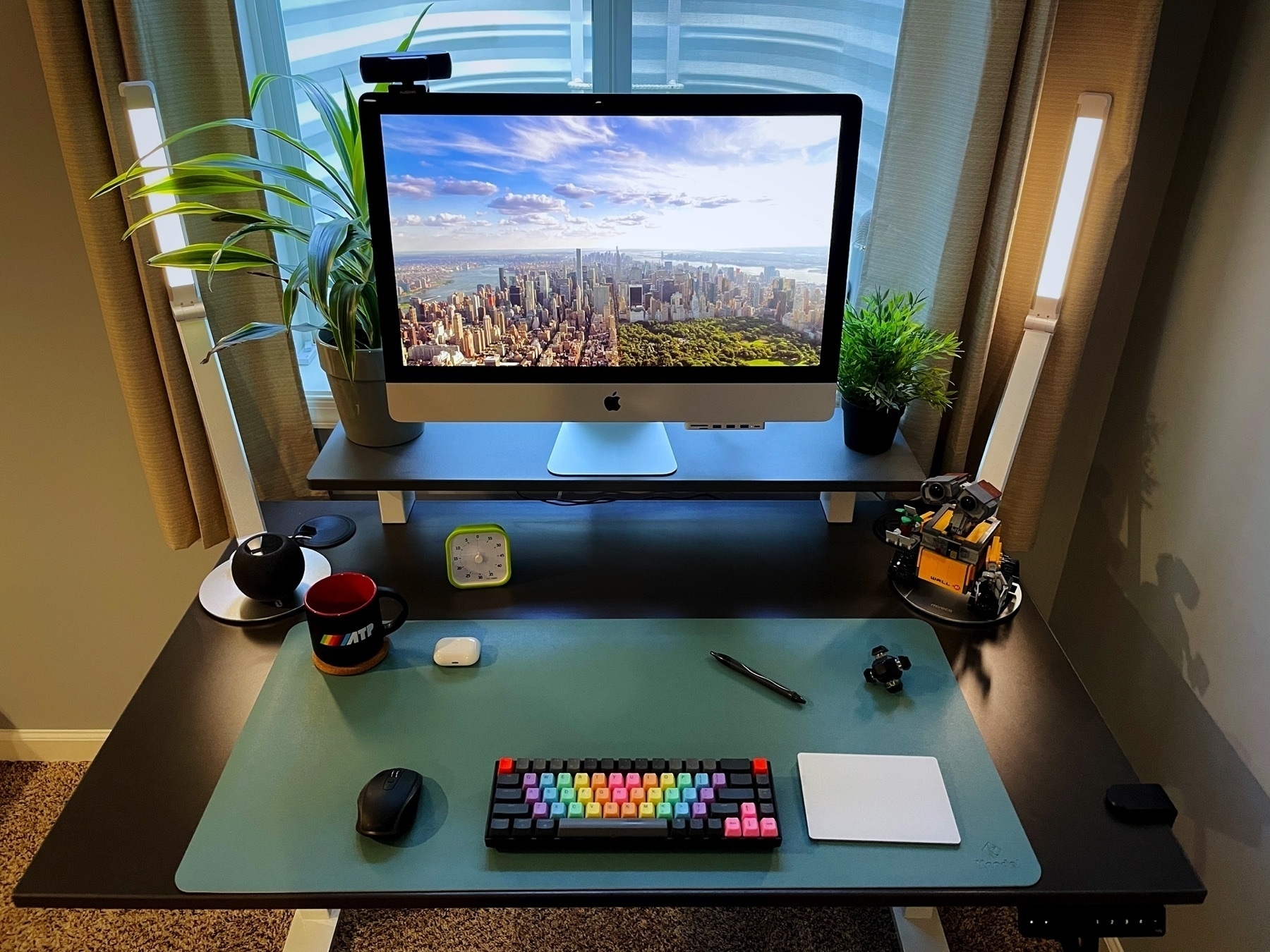 Fully Jarvis Laminate Standing Desk with Desk Shelf. I was originally working out of a spare bedroom at the start of the pandemic and I was using the top of an old dresser as a pseudo standing desk, which was NOT great to use for days and weeks on end. I purchased a nice desk that is a LOT more ergonomic to working longer hours and provides me with the flexibility of sitting or standing. I also had to move my workspace out of that spare bedroom to accommodate an (at the time) upcoming baby girl. I work out of a corner of my basement now.
Varidesk Active Seat. This is arguably one of the biggest flaws in my workspace. This isn't comfortable to sit on all day long but because I rotate between sitting and standing every 2 hours or so, this chair works fine for me. I like it because it lets me sway and swivel around and has a small footprint. Ideally, I'd have a better chair and have had my eye on the Fully Capisco chair.
Anti-fatigue mat. This is a comfortable mat to stand on and has some places on the mat to stretch out my calf muscles or massage the arches of my feet.
Apple 27-inch 5K iMac (2019) with 32 GB RAM and 512 GB flash storage. I got this through work and I LOVE it. It has a big, beautiful display and plenty of horsepower for all the types of work I do.
Twelve South BackPack. I've had this for 8+ years and love it. It's a tiny shelf that attaches to the back of any iMac and discretely hides my external backup hard drive.
Seagate 2 TB USB 3.0 external hard drive for Time Machine and boot drive clone with Carbon Copy Cloner. Backups, backups, backups. I always make sure I have an active Time Machine backup and a weekly clone of my Mac's boot drive in case something goes awry and I need to recover some data. I also highly recommend an offsite backup through something like Backblaze. If you ask me, you can never have enough backups of your data.
Knodle Desk Pad. The laminate surface of my desk attracts fingerprints and smudges easily so I wanted to get something to cover that up. This desk pad is a nice surface to write on and track my mouse around on.
Keychron K6 mechanical keyboard — my first mechanical keyboard. I wanted something compact that could light up with fun RGB colors, connect wired or wirelessly, AND can connect easily between 3 different devices. It's a perfect choice for me! I also recently replaced some of the keycaps.
AUSDOM 1080p webcam. The iMac has a built-in webcam that is fine but with all the virtual meetings and video screencasts I have to make for work, I wanted something that was better. This foots the bill perfectly for my needs.
Apple HomePod mini. I use this throughout my workday to play my personalized soundscape through Endel or occasionally listen to Apple Music.
Apple Magic Trackpad. I use a bunch of the gestures in macOS and the Trackpad is always useful to me for scrolling around and swiping between virtual desktop Spaces.
Logitech MX Anywhere 2S mouse. I rotate between the Magic Trackpad and this mouse to help ease the repetitive movements with computing. I taught myself years ago to use my left hand for mousing, despite being right-handed and it's helped with some wrist and forearm pain that I occasionally get.
Accidental Tech Podcast (ATP) mug. This isn't available for purchase as I write this but it's easily the nicest mug I own. I love the red color inside and the color splash on the //////ATP logo. I prefer to drink water out of it. It gives me an excuse to get up, go upstairs to the refrigerator and refill it.
Apple AirPods Pro. I use these ALL the time around the house while doing dishes, folding laundry, or exercising. But they are actually great for virtual meetings as well as a discrete way to have speakers in your ears and a microphone closer to your mouth.
Satechi Type-C Pro Hub Adapter. I have this connected to my iMac to provide additional USB ports for peripherals without having to reach behind the iMac to plug something in. It's really nice.
ErgoDox EZ Satellite. This is just a silly little desk fidget toy. It's a small object that has mechanical keyboard switches on all sides and is pleasing to me to hold while I'm in virtual meetings or web conferences.
Taotronics Desk Lamp. I have two of these, both pointed up at me. I use these primarily to evenly light up my face for virtual meetings or recording videos.
LEGO WALL-E. My wife bought this for me a few years ago as a Christmas gift and I absolutely ADORE it. Every time I look at it, I smile 😄.
Time Timer. I love this thing. It's a great visual timer that I use to focus on a specific work task for a period of time — like a pomodoro timer.
BIC Gelocity 0.7mm black ink pen. It's a simple pen that I like.
I'm very happy with this setup. I'm sure I'll continue to tweak it here and there but I can't think of anything glaring I'm missing in order to work effectively and more importantly, happily at home.